Kenny Selcer and
The Knuckles

"They're a warm, eclectic group that performs a wide range of material: folk rock, blues, country and reggae. The stunning guitar work and intimate vocals keep audiences asking for more. They play known classics with original spice, as well as originals that will get you tapping your feet and singing along."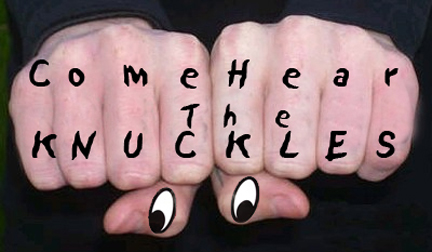 Kenny Selcer
- vocals, guitar •
Greg MacKinnon
- bass, vocals
Steve Peabody
- drums
"Wow. Great band. Awesome guitar. I'm So Worried is cool.
The .....drummer plays really nice. Yowsers!" -
Jill Stein
We'll be performing at 31 Main Street in Ayer, MA on
Friday, July 25th, August 29th
from 8-11pm! Click gigs below for details.
Gigs
Listen to The Knuckles with special guest Joe Kessler on Violin.
Black Magic Woman
©2008 Peter Green
Workingman's Blues
©Merle Haggard
I Don't Need No Doctor
©Ray Charles
She Makes Time
©Mike Welch
I'm So Worried
©Kenny Selcer
Fell For You Hard
©Kenny Selcer
Recorded live at Sally O'Brien's, Somerville, MA on 5/4/08.