From Jill and Ken:
Click
here
for more Jill Stein songs, live from 11/23/08.

Circuits to the Sun on iTunes
"We do so enjoy the music. We've given two of our favorite CDs away, and need to restock. 1 day without Ken and Jill music is just missing something! Hope to see you soon...." - Lois & Denis, fans in Massachusetts.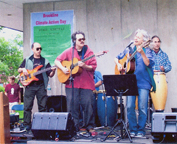 Click for larger view
Jill Stein with Jeff Lowe, Ken Selcer, Mike Migliozz(hidden) and Rich Caloggero - Brookline, MA June 2007
Listener review of When Will I See you (from the cd Circuits to the Sun)
Posted by Darowyn on Nov 20, 2008 on Ourstage.com

Basically a simple straightforward song of yearning, but done with a style and quality that is very rare indeed. There is a powerful underlying 2/4 beat that strides along with comments on electric guitar that Mark Knopfler would be happy to have laid down. Jill's voice is close up and controlled, and full of emotion. A good , nicely harmonised, hooky chorus, completes the picture. I love it to bits!

Do yourself a favour, listen to this track, then listen again.
Somebody's Sister
Jill Stein and Ken Selcer
Thinking globally and singing locally, Jill, and Ken create a rich mix of folk, rock, roots, reggae and everything in between. According to the United Nations FAO Casa magazine, "Their songs are great, their voices magnificent and their music is philosophically uplifting, thoroughly enjoyable and fantastically crafted. In the words of the Driftwood Coffeehouse, (Hyannis, MA), "The music will send shivers down your spine and fill your soul with joy......It doesn't get any better than this folks."
Songs From Jill Stein and Ken Selcer

Circuits to the Sun
Circle of the Earth
Guardians
Like Dreams
Rise Above
Rocky Mt. Road
American Dream
Dancin' Wild
Sing A Little Song
Dirty Little Secrets
When Will I See You
Streets of Boston
My Place
I Believe
Rock On Baby
Review of Circuits to the Sun by Robert Francos, 9/7/07:
Also co-led by the prolific Ken Selcer, along with Jill Stern, is the pop rock group SOMEBODY'S SISTER: "Circuits to the Sun" (
www.kenselcer.com
). My question is, why can't mainstream music sound more like this? While definitely pop music, it's such a higher quality than just about anything one can hear on the top radio stations. It's like SS refused to take the easy and dumbed-down route. The songs are catchy without being screechy (lClarkson), melodically all over the map (Aguilera), or just pretending to be on key (Spears). Plus Ken and Jill's voices are so well suited for the sound that, in a more fair world, it would be SS on the charts, making listenable pop. Highlights include "Dancin' Wild" (regular and extended mixes) and "Dirty Little Secrets". --
Robert Barry Francos