Kenny Selcer and

Bluegrass/Americana/Roots
String Bean
is
Kenny Selcer
(guitar,vocals),
Rich Caloggero
(guitar),
Mike Migliozzi
(percussion, vocals),
Andy Solberg
(violin, vocals) and
Brad Hallen
(acoustic bass).
"String Bean is a warm, eclectic group that performs a wide range of roots material. You can hear strains of Americana, bluegrass, jamband, blues, jazz and even Zydeco. The stunning guitar and fiddle work and intimate vocals keep audiences asking for more. They play known classics with original spice, as well as originals that will get you tapping your feet and singing along."
---
Just released on Touch The Sky Music! Recorded live at Rear Window Studios in Brookline, MA 12/1/07, with a few overdubs 1/08 - 4-08. Mixed by Kenny Selcer.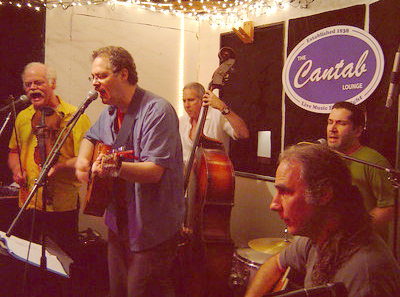 Andy, Kenny, Brad, Rich, Mike - String Bean, Cambridge, MA
photo by Samantha Jane